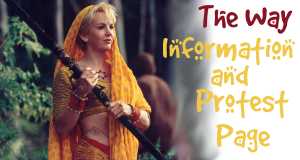 "The Way" Controversy - began February 1999
*** After receiving a very thought-provoking email from a young man in Delhi, he made me realize that my initial statements in the introductory paragraph of this page were less than kind to the Hindu population at large, which was not my desire. So, I have rewritten it to reflect my original intent to make this merely a factual record of what happened...not a condemnation of Hindus or Hinduism.***

In April of 1999, the fourth season episode "The Way" was removed from world-wide syndication, as a result of a complaint from the World Vaishnava Association who was outraged at the episode's portrayal of the god Krishna.

This page, initially set up to add to the growing internet protest to Studios USA's pulling of the episode, now will stand as an archive to the controversy and the events surrounding it.

Here is a high-level timeline of events, with associated articles and messages from folks involved with the show.
| | |
| --- | --- |
| February 21, 1999 | Renaissance Pictures receives a letter from Tustas Krishnadas, Press Secretary of the World Vaishnava Association protesting the as-not-yet-aired episode. View the letter and other protest material at the American Hindus Against Defamation (AHAD) web site, or see the transcript below. |
| March 1999 | "The Way" airs. |
| April 2, 1999 | The producers of "XWP" issue a public apology and annouce they are pulling "The Way" from domestic and international rerun schedules. |
| April 4, 1999 | "Xena producers pull 'The Way' from repeat schedule", article by Lisa Tsering for India-West magazine. |
| April 6, 1999 | Letter from Rob Tapert addressing the decision to pull "The Way" from syndication. |
| April 1999 | Xenites all over the world band together to protest the pulling of the episode. An internet petition is created, and signatures start to roll in. |
| April 17, 1999 | "A Furor Over Xena", an article by Dr. Ravi Arvind Palat, Renaissance's Hindu consultant on "The Way" |
| April 20, 1999 | Initial petition to restore The Way to worldwide syndication was delivered to the executive offices of Studios USA. Read the email confirmation. |
| May 28, 1999 | "Xenites battle Hindu censors", Seattle Times editorial on Xenites protesting the pulling of "The Way" |
| June 3, 1999 | Studios USA Responds to the Petition and Letters to Restore "The Way." |
| August 11, 1999 | Sharon Delaney, of Creation Entertainment, announces "The Way" is to be put back into syndication! |
"Aha!" you might think. "Problem solved, goal achieved." Well, yes, but the controversy goes on.
August 23, 1999
The AP news wire sends out an article on the return of "The Way".
Week of
August 30, 1999
"The Way" re-airs. In some cities, it is accompanied by a 30-second PSA from Lucy and Renee. Also, the disclaimer 'Any similarities between Hanuman and a major character in the motionpicture classic "Planet of the Apes" is purely coincidental.' was not included with the rebroadcast version.
September 1, 1999
Article from "New Indian Style" magazine discussing the revisions made to "The Way" for it's reintroduction into syndication.
---

Because of pressure from ultra-conservative Hindu groups, the fourth season episode "The Way" has been removed from world-wide syndication. Please, visit these links to find out what you can do to politely protest.
Andrew's Xenaverse
http://www.merwolf.com/affiliates/
http://www.nutbread.com/
MaryD's The Way Protest Page
http://www.angelfire.com/ga/GabrielleXena/Censorship.html
http://www.tsoft.com/~cmwilson/ProtestCensorship.html

Sign an online petition! - Want a really easy way to do something about "The Way" being pulled from syndication? Lisa Jain has put together an online petition for Studios USA to protest the censorship of "The Way" on her site. You can add your name and address at: http://www.starpoet.com/names.html. The names will not be shown online, but will be printed out hardcopy and sent to Studios USA.
---
February 21, 1999: The letter of protest received by Renaissance Pictures, outlining the issues
World Vaishnava Association

'India: 146 Gopesvara Road, Dist. Mathura UP Pin 281121
'United States: 3585 Red Dog Drive, Camino, CA 95709

'February 21, 1999

'Sue May
'Pacific Renaissance Pictures Ltd.
'P.O. Box 90409
'Auckland, New Zealand

'Re: Xena: Warrior Princess

'Dear Ms May

'Thank you for taking the time to speak with me this afternoon, in spite of the fact you
'were on the road.

'The World Vaishnava Association (WVA) is an umbrella organization comprised of more
'than 30 different independently functioning missions who are actively preaching the
'message of Lord Krishna as authorized in the Vedic scriptures. Member organzations are
'active not only in India, but in nearly 100 other countries around the world. The
'combined strength of WVA missions numbers in the millions and our teachings are
'respected and supported by a few hundred million Hindus of the non-Vaishnava tradition
'as well. Our rich spiritual heritage dates back some 5,000 years.

'During our conversation I expressed that Vaishnavas and Hindus are disturbed and
'alarmed by reports that Lord Krishna has been worked into the plot of next week's
'episode of Xena: Warrior Princess, entitled "The Way." Indeed I have already
'coordinated with Mr. Ajay Shah of the American Hindus Against Defamation, as well as
'three other Hindu and Vaishnava organizations.

'Lord Krishna is worshipped by several hundred million people around the world. He is the
'Supreme Lord and should never be manipulated by script writers and portrayed as a
'fictional character. Lord Krishna is not a fictional or mythical character any more than Lord
'Jesus Christ, The Prophet Muhammed or Allah are mythical. The overwhelming majority of
'Hindus and Vaishnavas will be extremely offended if they learn that Universal Studios
'has invented a story line for the Supreme Lord and then plugged Him into it.

'Even if Lord Krishna is portrayed in a "good" or favorable role, supporting the story's
'heroine, it will still be offensive to his worshippers and devotees to see him speaking
'fictional words and engaging in fictional actions. Krishna is real. Krishna's pastimes are
'real. It is insensitive and offensive to portray Lord Krishna either as a fictional character,
'or as engaged in fictional activities.

'I understand you are hesitant to reveal the plot of the upcoming episode. This is
'understandable. However, as a gesture of good faith, you should be more than willing to
'answer a few simple questions which will let us know whether Lord Krishna is being
'dealt with in a manner that is insensitive and offensive to his devotees:

'1. Are fictional words spoken by Krishna as part of the plot‹words to do with the
'fantasy story, but which Krishna in truth never spoke?

'2. Does Krishna engage in fictional activities as part of the story line? If the answer to
'these questions is "yes", then frankly speaking we have a problem.

'We understand you may not have understood the specific concerns outlined above when
'you undertook the production. However, the fact that Universal Studios and the
'producers of Xena and Hercules were specifically advised by a number of Hindu groups
'(inside and outside New Zealand) in September of 1997, about our concerns that Hindu
'deities be treated respectfully and sensitively on your productions is not lost on us. In
'light of this fact, we feel more than justified in asking you to not air this particular
'episode unless we are able to confirm that it treats Lord Krishna in a dignified and
'non-fictional manner. If you comply with our wishes we will not only be grateful, but
'there will certainly be no hard feelings for the fact that the feelings of pious Hindus and
'Vaishnavas were not considered prior to production, as requested in September, 1997.
'Indeed if the producers of Xena or Hercules ever wish to deal with Hindu deities in future
'episodes, we will be more than happy to provide complimentary consultation to ensure
'that you do so tastefully and in a manner not offensive to followers of Indian or Vedic
'religions.

'On the contrary if you choose to proceed with airing an episode that is offensive to
'Hindus and Vaishnavas, you can be assured there will be an organized international
'response. We don't want this to happen. Indeed we would prefer to work with you and
'not against you. But this is not an issue that we take lightly.

'I look forward to your prompt response.

'Wishing you well,

'Shanti (Peace),

'Tusta Krishnadas
'Press Secretary
---
"Statement by "Xena" Producers"

India-West - April 2nd, 1999

By Lisa Tsering

Renaissance Pictures issued the following statement April 2:

To reaffirm our previous statement, when we set out last year to make the episode of "Xena: Warrior Princess" titled "The Way," we certainly had no intention of offending anyone. We even went so far as to hire an academic expert on Indian studies who is Hindu to make sure the script would accomplish our good intentions of honoring and not offending anyone.

However, it has become evident to us that the advice we received is not in line with Hindu beliefs. We are genuinely sorry that we have offended members of the Hindu community and have no plans to produce any future episodes involving Hindu deities or personas.

Because production constraints make it impossible to change "The Way" now, we will pull the episode from worldwide syndication. If we later decide to air it again, we would first contact Sunil Aghi, founder and president of the Indo-Americans Political Foundation, to discuss the specific alterations that would need to be made.
---
"Xena" producers pull "The Way" from repeat schedule

India-West - April 4th, 1999

By Lisa Tsering

(visit "The New Indian Style" for the WHOLE story: http://members.tripod.com/~LisaTsering/xena.html)

The producers of "Xena: Warrior Princess" issued a public apology April 2 and announced that they were pulling the episode "The Way" from their domestic and international repeat schedules, in response to a protest by over 100 Hindu organizations worldwide.

"No TV episode is worth this. It's better to remove the offensive material," the show's executive producer, Rob Tapert, told India-West in an exclusive telephone interview. "It was never our intention to cause this much trouble."

The April 2 press release issued by Renaissance Pictures reads, "... We are genuinely sorry that we have offended members of the Hindu community and have no plans to produce any future episodes involving Hindu deities or personas. Because production constraints make it impossible to change 'The Way' now, we will pull the episode from worldwide syndication."

Sunil Aghi, founder and president of the Indo-American Political Foundation, worked with StudiosUSA head Bob Fleming and Universal's head of public relations, Jim Benson, to craft the release. The decision was made by Tapert and his co-executive producer R.J. Stewart, under the guidance and request of StudiosUSA, said Tapert.

"I was using my contacts and political influence given to me by the Indo-American community," said Aghi. "I don't want to take full credit."

Aghi, whose connections into mainstream politics and entertainment reach from the White House to executives at Paramount Pictures and Universal Studios, spent two hours with Fleming and Benson last week explaining that if "The Way" were aired again, it would spark a 15,000-strong protest march as well as a "boycott of the sponsors, the studios and the tv stations," he said. "In India, people would have boycotted all the American made products just because of this show."

The decision to pull the show from its domestic and international repeat schedule will cost StudiosUSA undisclosed millions of dollars.

Despite their seeming victory, Hindu protesters are not satisfied by the announcement, saying that they only heard about it through the media and had not been contacted personally with an apology -- and that they had not had their organizations mentioned by name on the press release.

"They should have apologized to us directly," said Tusta Krishnadas, spokesperson for the World Vaishnaiva Organization, who led the protest. "They're still snubbing us." Pratap More, on behalf of American Hindus Against Defamation and the Vishwa Hindu Parishad, agreed with Krishnadas.

According to Aghi, however, executives at Universal didn't want to deal directly with any religious organizations as they were afraid of opening a floodgate of protest.

Although he is trying to remain a neutral voice on behalf of the Indo-American community, Aghi expressed frustration that Hindu activists hadn't been satisfied with the April 2 announcement. "This is the last time I get into religious warfare," he joked. "I'm a political activist," he said. "Not a religious activist." He did, however, invite readers to express their support for the producers' decision by contacting him by email at iapf@access1.net.

Aghi says he was first introduced to the story through Avdhesh Agarwal, Vijay Telikekar of the American Hindu Federation, Gopal Chatravedi and Chander Mittal, chairman of IAPF. According to Aghi, the Indo-Americans Political Federation is a group of Americans of Indian origin who work to lobby government agencies to be more responsive to the needs of the Indian community; to support political candidates who share their convictions and aspirations; and to educate Indo-Americans on the U.S. political process. The group has raised $600,000 in the last two years, he said. Aghi also founded Thank You America, a group which distributes food and blankets to Southern Calfornia homeless.

"Xena: Warrior Princess" is seen in more than 60 countries worldwide, including India. The show is television's highest rated first-run syndicated drama.

Tapert admitted that the whole controversy wasn't handled as gracefully as it could have been. "We would have changed the episode in a heartbeat if we'd known this would happen," he said, adding that "The Way" was one of his favorite episodes in "Xena's" four-year history because "it was actually the first time we showed our hero praying." He was so enamored of the Hanuman character, in fact, that he was considering making it a recurring one on the show.

Tapert, who is also executive producer of "Hercules: The Legendary Journeys", also served as executive producer of the action films Hard Target and Timecop, starring Jean Claude Van Damme, and The Quick and the Dead, starring Leonardo DiCaprio, Sharon Stone and Gene Hackman. He admitted that although he loves working in television, the whole experience has soured him and that he's considering leaving TV to return to feature films. Tapert described the controversy as "a giant misunderstanding."

"We seriously underestimated the magnitude of the error we had created at the time," he said.
---
(posted to the Chakram mailing list by Sharon Delaney of Creation on 4/6/99)
To All Concerned,

Renaissance Pictures and its business partners are not insensitive to the concerns of Hindus worldwide. The earnest and understandable efforts of some Hindus to convey their distress over the depiction of Krishna in the Xena episode, "The Way," were blurred by the intolerant attitudes in which the issue was initially couched.

On February 23, 1999, the Xena production staff was sent a letter from Tustas Krishnadas, Press Secretary of the World Vaishnava Association. In his letter, he wrote that the Xena episode, "The Way," which, at the time of his letter had not yet been screened, was . . .

"offensive in two ways: (1) It treats Lord Krishna, the Supreme Personality of Godhead, speaker of the scripture Bhagavad-gita, as fictional, and (2) since in this episode Lord Krishna is engaged in fictional activities of helping Xena reunite with Gabrielle, who is obviously her lesbian lover, it makes it appear that Lord Krishna and the Vedic religion approve of and give blessings to homosexual relationships, which is completely false."

While the first point is certainly worth serious discussion, the second point was difficult not to treat as just another piece of hate mail.

Over the years, we at Renaissance Pictures have read thousands of letters protesting our depiction of interracial love affairs; our portrayal of Cleopatra as black; of Hercules' and Xena's tolerance of others' religious, ideological, or sexual leanings. We have even received criticism of the diverse ethnicities which we choose to have people our villages. Why we do not respond to letters of that nature is obvious. However, by not responding to this letter, we were then made the target of misinformation and outright lies.

Every critic has a personal agenda. Many agendas are worthy of consideration. However, those born out of bigotry and intolerance must be fought. To those Hindus we offended, our apology stands. To those with an agenda of intolerance, this is not a victory.

Respectfully,
Robert Tapert
Executive Producer
Renaissance Pictures
---
April 17, 1999: Dr. Ravi Arvind Palat responds to the controversy
A Furor Over Xena

by Dr Ravi Arvind Palat

Dr. Palat is a professor in sociology for Asian Studies at Auckland University (NZ) and is an expert on Hindu religion and lore. He was the consultant for the Xena episode "The Way"

Protests by some Hindu groups against an episode in the Xena television series bears an unmistakable resemblance to protests in India last year against Ms. Deepa Mehta's film, Fire. That widely-acclaimed film which screened here during last winter's International Film Festival portrayed two sisters-in-law, Radha and Sita, finding solace in each other's arms. Claiming that lesbianism is an affront to Hindu sensibilities, members of Shiv Sena - the same group that dug up the pitch at the Ferozeshah Kotla stadium in an unsuccessful attempt to prevent an India-Pakistan cricket test match - burnt down two theatres screening the film in New Delhi and Mumbai (formerly Bombay).

Now, the New Zealand School of Meditation, the Wellington Indian Association and the World Vaishnava Association allege that the episode, The Way, suggests that Lord Krishna blesses Xena's lesbian relationship. Notably, none of the protesting Hindu groups in this country have seen the episode.

Late last week, when protests first surfaced in advance to the episode being shown on North American TV, the producers of Xena sent me a video of the episode. Comparisons with Fire are surely unjust. While Fire was a powerful indictment of patriarchal society, The Way is mindless televison. But it did not contain even the slightest hint of sexual relationships of any kind, let alone a lesbian one.

But what if it had? In the wake of the ire over Fire, the Indian journalist, Mukund Padmanabhan, wrote in The Hindu newspaper "A civilisation which has produced Khajuraho and the Kamasutra and nurtured competing schools of philosophical thought cannot be so easily shocked by a Sapphic suggestion, a blasphemous thought or a politically deviant idea."

Hinduism's vitality stems from it not being a doctrinairy religion. By their protests, these self-appointed defenders of the faith are themselves undermining the very factors that make Hinduism unique. Unlike Christianity, Islam, or Judaism, Hinduism has no monotheistic God and hence no sacred book of revelations. While there are priests aplenty, there is no overarching ecclesiastical organisation. The history of Hinduism is therefore not pockmarked by theological debates on orthodoxy and heresy or by burning the losers on crosses.

Unlike other religious, Hinduism does not have a linear history with sects branching off from an original organisational system as in emergence of Protestant churches from Catholicism. It is more akin to a mosaic of distinct beliefs, deities, values, and cults which juxtapose or distance themselves from others as the eminent historian Professor Romila Thapar has demonstrated. There was no scope for inquisition, since dissidents simply founded a new sect.

The heterogeneity of India, with a population larger than Europe and Russia combined, and home to 16 major languages and over 22,000 dialects, has always precluded the creation of a single, homogenous Hindu community. Popular observances have always been accorded priority over lifeless texts.

When new deities could be created, like Santoshi Ma in the 1980s, and linked genealogically to existing ones, allegations that the producers of Xena fictionalised Lord Krishna rings hollow. The Ramnami sect in central India removes passages considered offensive to their caste from the Ramayana. At the other end of the social spectrum, usurping rulers and landlords routinely manipulated Hindu epics for purposes of political legitimation.

Every year, the film industry churns out hundreds of movies on a religious theme, each of which is a fictionalization since there are no texts that do not have variants according to caste and sect. The very notion of an unchanging religious text is foreign to Hinduism.

The flexibility of the theological framework has meant that Hinduism offers a greater scope to the privatization of religion than any other faith. Religion is almost a private matter, and even theism is no requirement. Renunciation was the most common form and was often used as a cover for private forms of worship and to the making of a counter-culture.

If homosexuality is not a prominent theme in this counter-culture, it is counter-intuitive to presume that Indians, all 960 million of them, are uniquely different from the rest of humanity. Gays and lesbians are found in every cultural group and religious affiliation. To say that lesbianism is contrary to the Vedas is sillier than fundamentalist Christian ministers quoting the scripture at the Hero Parade precisely because religious texts do not have the same function in Hinduism as they have in other religions.

By insisting that lesbianism is deviant behavior, the self-appointed guardians of the Hindu faith are subverting the very meaning of being Hindu.

Hindu bigotry is an oxymoron precisely because it is the vitality and the exuberance of popular manifestations of religious belief rather than adherence to doctrinaire religious notions that accounts for Hinduisms vibrancy. India is possibly the only large area conquered by Muslims rulers where the overwhelming majority of the population did not accept the religion of their overlords.

The narrow construction of Hinduism by the fundamentalists robs it of its distinctive features and makes it more like the Semitic religions. The fundamentalists are a greater threat to the religion than the makers of Xena. The real abomination is the caste system and the violence done to women, not supposed portrayals of lesbianism!
Copyright of the article 'Furor over Xena' belongs to Dr. Ravi Arvind Palat. This article may be freely posted on non-commercial sites with the copyright notice."
---
(posted to the Chakram mailing list by Rita Schnepp on 4/20/99)
From: "Lisa Jain at Starpoet" (lisajain@starpoet.com)
Subject: Delivery of the Petition
Date: Tue, 20 Apr 1999 19:22:51 -0400

The Eagle has Landed.

We have had verbal confirmation from the mailroom and assistants at both offices that the initial petition to restore The Way to worldwide syndication had been delivered to the executive offices of Studios USA. Delivery was at 10:30 AM PDT this morning . The recipients were Jim Benson and the President of Studios USA.

This initial petition contained over two thousand names. This is just the beginning. We've promised them more and 900 names so far on the follow up petition. Another 2000 or more names would ensure that Studios USA knows we are serious.

Please don't sign more than once but don't feel like you should limit spreading the word to Xena related lists -- we need to expand our effort and capture our natural allies. Talk to your friends, post the petition URL to other lists you are on -- tell them why it's important to sign the petition.

Additional Information is at

http://www.tsoft.com/~cmwilson/ProtestCensorship.html

If you haven't done so already, please take a moment to sign the online petition at:

http://starpoet.com/names.html

You will be asked for your name and e-mail address. Your street address is optional but encouraged. None of your information will be available to the public. It will be collected and a hard copy will be sent to Studios USA.

We all thank you. You are appreciated.

LJ
---
(posted to the Chakram mailing list by Rita Schnepp on 6/3/99)
Studios USA Responds to the Petition and Letters to Restore "The Way."

On May 28th, Bob Fleming, Group President, Studios USA phoned our petition representative in Los Angeles regarding the episode, "The Way."

The most important information Mr. Fleming shared was that his group was working on a way to bring it back. He also mentioned that they've been reviewing the content of letters and transmissions in favor of restoring "The Way," and that these were being considered. Several times during the conversation he repeated "we care about the fans."

Other topics that were discussed were: the pre-protest internet threads sparked by "The Way," -- their philosophical and academic content ; worldwide participation in the internet petition to restore "The Way" currently with 6,000 + names; the URL's of Hindu Internet News Organizations and editorial pages which favor "The Way;" the URLs of internet websites protesting the censorship of "The Way;" and the organizational structure at Studios USA and USA Studios.

From this exchange with Mr. Fleming, we believe that the executives are reading your letters. EVERYTHING you can send, whether it be a news article, webpage , petition, or single, polite request to "please bring it back " CAN be used by them to restore this episode.

We believe that by censoring this show, Studios USA set a terrible precedent allowing any religious group to effectively censor the viewing of all of us. Ironically, we're now giving them information they need to bring it back:

* Bob Fleming, Group President; Jim Benson, Public Relations; Steve Rosenberg, Domestic Television and Barry Diller, USA Studios, Chm. and CEO will continue to get both internet and hard-copy petition updates. * They will receive lists of URLs protesting the censorship of "The Way." * They will receive printouts of appropriate secular and non-secular news stories and websites in favor of "The Way."

We sincerely thank those of you who participated in the petition and letter-writing campaign to the Studio and affiliates. We encourage you to continue to send your letters and appropriate information in a polite and respectful manner to any or all of the above-mentioned executives. Based on this conversation with Mr. Fleming, we feel that your information and support of "The Way" can HELP them make a decision favoring freedom of expression.

-------------------- Petition Update 6/1/99 -- 6,956 names (internet and hard copy) For more information visit this URL: http://www.tsoft.com/~cmwilson/ProtestCensorship.html
---
August 11, 1999 - Ayiyiyiyiyiyiyi! "The Way" is back, Xenites! Time to sit back and rejoice with a little nutbread!

This announcement from Sharon Delaney, head of the XWP Fan Club, who always has an ear into what's going on within XWP:

"The rumbles have been confirmed (G)

A revised version of the Xena episode "The Way" will air the week of August 30. As to what the revisions are, I suggest we wait and see :)

Sharon"

And this, from the Xenamedia web site:

The Way to screen in the UK (?)

Details are still rather regional and sketchy as it comes in, but in a small victory for Anti-Censorship Xenites in the UK, WRLH FOX 35 in Richmond have confirmed the screening of a revised version of the controversial episode The Way on September 5th.

"The program airing on September 5th is a revised version of "The Way." In September the program will air on Sundays at 10:00a and Saturday at 2:00a."

- FOX35 Programming Dept.
---
(posted to the Chakram mailing list by Jacquee on 8/23/99)
Hi All,

This is hot off the AP wire.

Looks like things are heating up and that Tusta is feeling better. It should be an interesting two weeks as we watch it all unfold.

Jacquee

LOS ANGELES (AP) -- A "Xena: Warrior Princess" rerun is drawing criticism from Hindus who objected to the episode when it first aired in March because of its depiction of deities as fictional characters.

Those protesting the episode titled "The Way," set to repeat the week of Aug. 30, say series' producers Universal Studios and Renaissance Pictures are reneging on a promise not to air it again.

The producers "obviously claimed that they were not going to be reshowing the episode just to quell the mounting worldwide protest," Tusta Krishnadas of the World Vaishnava Association said in a statement Friday. He called it a "dishonest strategy."

Using Lord Krishna and Sri Hanuman in the action-adventure series, which stars Lucy Lawless as Xena, is an affront to those who worship them, Krishnadas said in April when the episode was pulled from worldwide syndication.

Changes made in the show for its second airing were described by Krishnadas as "minor" and insufficient.

A spokeswoman for Renaissance said the producers have lived up to their word. In its April response to the protest, the company said alterations would be considered "if we later decide to air itagain."

After conferring with Sunil Aghi, president of the Indo-Americans Political Foundation, an edited version omits a scene in which Xena fights Sri Hanuman, who Aghi said is considered by some Hindus to be a deity.

Other changes are under way and a public service announcement has been added in which Lawless and Aghi put the episode in perspective, he said.

"The portrayal of Hindu deities is important to us, but the most important goal is to enlighten people of other religions about Hinduism," Aghi said Friday.
---
(posted to the Chakram mailing list by Lisa Tsering on 9/1/99)
Edited Xena Episode Airs Despite Hindu Protests

(visit "The New Indian Style" for the WHOLE story: http://members.tripod.com/~LisaTsering/xena.html)

By Lisa Tsering

India-West Sept. 3, 1999

An edited version of a "Xena: Warrior Princess" episode deemed offensive by some Hindus airs this week across the country amid continued protest.

The episode "The Way" which some protesters claim portrays the god Krishna as a fictional character, will air in the San Francisco Bay Area on KBWB -20 Sept. 4 at 8 p.m. and again Sept. 5 at 4 p.m., and in Los Angeles on KTLA-5 Sept. 4 at 4 p.m.

A scene showing Xena fighting with Sri Hanuman has been edited out, and a public service announcement starring the show's stars and Sunil Aghi, a leading Indian American activist, has been added to the end of the show.

"Cosmetic changes here and there won't make a difference," said Syama Sundara Das, a representative of the Chaitanya Mission, one of the groups protesting the episode. Asked if further protests were planned, he said it was "possible .. We're looking at all the options."

"The Way" was first broadcast last March. A protest led by Tusta Krishnadas of the World Vaishnava Association, which attracted hundreds to picket outside Universal Studios, resulted in the episode's being pulled from the show's repeat schedule.

After Southern California community activist Sunil Aghi of the Indo-Americans Political Foundation entered the fray, the show's producers (StudiosUSA/Renaissance Pictures) agreed to pull the episode from its international and repeat schedule until a satisfactorily edited version could be produced (I-W, Apr. 9).

Krishnadas, however, maintained that since Aghi wasn't a scholar of Hinduism, he didn't have the right to speak for the more than 70 Hindu groups who had joined the protest so far (as of Sept. 1, more than 100 groups continue to demand that the show be pulled from worldwide syndication). "Universal ... is giving a false impression to the public," said Krishnadas in a statement last week.

In a letter to "Xena" executive producer Rob Tapert, Krishnadas accused Renaissance of going back on their word; Tapert's reply, faxed to India-West by the show's publicist, said "I produced this episode to illustrate the beauty and power of the Hindu religion." and cited "thousands of emails and letters ... from fans of the show who were angry that we pulled it."

At one point in the episode, Xena is shown praying to Lord Krishna; at the end, she is transformed into Ma Kali, complete with black skin and wagging tongue.

Tustadas was able to gather more support for the protest at a meeting of the Dharma Sansad conference of Hindus in Austin, Tx., Aug. 28-29, he said. The conference was held under the auspices of the Vishwa Hindu Parishad, the world's largest Hindu organization.

In response to the public service announcement currently being aired with the show (see sidebar), the protesters have just produced their own PSA which states, in part, "Minor re-editing and photographs of Xena with an Indian politician ... do not lessen the offense. Lord Krishna and other Hindu deities are real, not fictional playthings for Hollywood."

Not all Hindus agree that the episode should be pulled: the NRI monthlies Hinduism Today and Little India both called for restraint from protesters. Achal Mehra, editor of Little India, described the protest as "saffron vaudeville."

Sunil Aghi said the WVA and related groups "have the right to protest, under the first amendment," but that "the majority of Indo-Americans do not support the protest."

Among the channels that are broadcasting the "Xena" episode are the following (check local listings for dates and times):

Phoenix, Az.:KSAZ Fox; Central Calif.: KCBA Fox 35; San Diego, Calif.: KSWB; Seattle, Wa.: KTZZ-22; and Reno, Nv.: KOLO.

~~~~~~~~~~~~~~~~~~~~~~~~~~~~~~~~~~~~~~~~~~~~~~~~~~~~~~~~~~~~

Disclaimer to Air with "Xena"

This 30-second public service announcement, aired at the end of the episode "The Way" features Lucy Lawless (Xena), Renee O'Connor (Gabrielle) and Sunil Aghi.
LL: In today's episode, Xena prayed to Krishna, the supreme godhead of Hinduism. We hope that we have portrayed it in a revered and respectful way.
SA: My name is Sunil Aghi. Im a community activist and president of the Indo-Americans Political Foundation.
ROC: More than a billion people throughout the world practice the Hindu religion.
SA: An accurate portrayal of our deity is important to us, but an even more important goal is to enlighten people of other faiths about Hinduism.
ROC: With understanding comes tolerance.
LL: If you would like to learn more about this great religion, please visit your local library or Web site.

Lisa Tsering
---